Extraction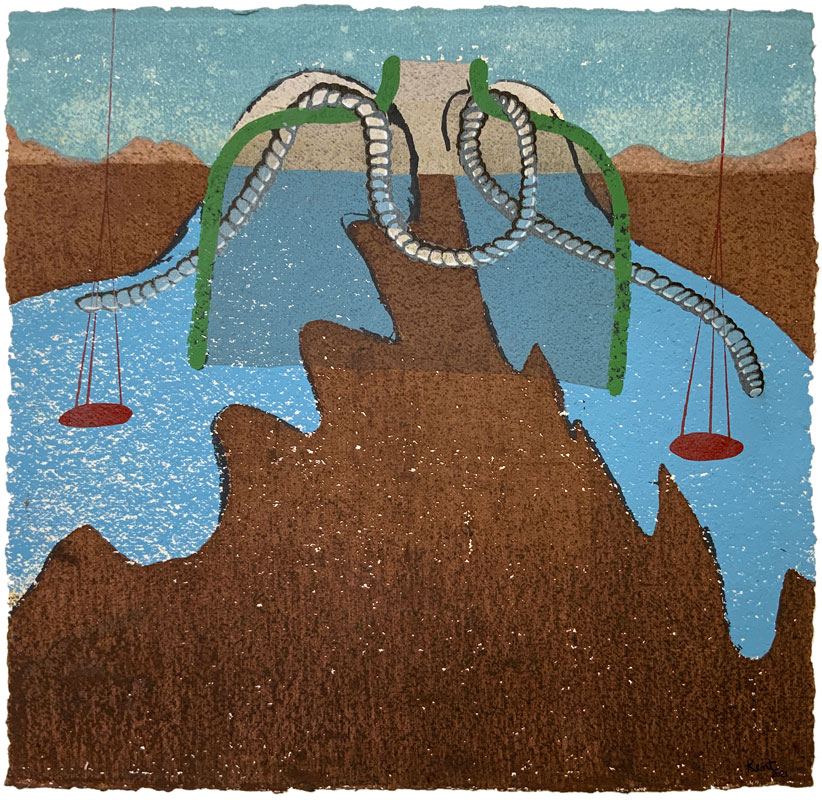 ---
These works have been exhibited in EXTRACTION: Art on the Edge of the Abyss exhibitions, a multimedia, multi-venue, cross-border art intervention which seeks to provoke societal change by exposing and interrogating the negative social and environmental consequences of industrialized natural resource extraction.
The below writing was prepared for exhibition statements.

Pulse
When deep in nature, I feel her pulse and symbiotic presence, a oneness. When back in society, I feel guilt for the harm my everyday actions cause and shame for the willful negligence of my species. If we did not perceive ourselves separate from nature, we would recognize the harm we are doing to ourselves. Despite my good intentions, despite making art about extinction, extraction and climate change, I recognize that I am part of a destructive system and part of what needs to be changed.

Allegiance
A figure, with severed limb, emerges from the landscape. A flag pole, without a flag, rises from the ground becoming a beacon in the figures chest cavity.
A felt connection to the natural world could be a deeply spiritual experience or a brief moment in time. Such connections become more and more difficult as human social lifestyle becomes more complex, more demanding and less concerned with the impact of our footprints on our shared ecosystem.
It takes strength to resist habits and conveniences that destroy resources and result in species extinctions. Just because we can dig it up, is this a best practice? What is the cost of having a cell phone or taking a plane from here to there in record time? Why do we measure our economic health by how much we consume? What is the cost for our allegiance to consumption beyond what is needed, beyond what is healthy? What flag do we hoist and sing to?
Lure
Lure is a dystopian visual narrative presented as a dream-like temptation to believe that despite our environmentally destructive habits everything is going to work out just fine.
We live in an age where more and more is said but less and less is said about sustainable living. Dangers and facts become buried in disinformation presented as news. Consumption and daily conveniences are rewarded. Tolerance of planned obsolescence has become normalized. The consumption treadmill gives most people little time for self reflection, particularly how our actions impact other species and their habitats. The work asks prompts questioning what is a selfish dream and what is a meaningful existence?
Visual reference include the human brain, ghost-like figures with red talking bubbles, virus cells using humans hosts for survival and transport, gold mine tunnels in the Sierra Nevadas (that also allude to electronic circuit boards), salt extraction levees in the lower San Francisco Bay and quick silver mines (mercury) near San Jose.
You, I, me, we, us
Over seventy finger prints are delicately tentacled to a three-dimensional biological form constructed of concentric topographic lines like those found on maps. A silhouette presents itself as being both dependent and separate from the organic form.
Humans, like all materials on planet earth, come from the debris orbiting around our sun 4.5 billion years ago. We extract and isolate earth's elements to construct our built environment. We chemically and biologically alter them to suit our needs, such as making metals stronger or making organisms more disease resistant.
Our obsession with bigger, better, stronger has led to our species out-of-control consumption. The results of human behavior include desecrating our land, a reduction of biodiversity and a hostile takeover of the very things that keep our planet in balance.
This work questions our core purpose and responsibility in a shared existence.
Armature
The flexible armature for a set of wings wrap around a torso in a landscape of sky, land and water. Justice scales suspend from the upper picture plane without revealing the scales horizontal beam's central pivot point– the primary balancing mechanism.
What is justice when perpetrators of environmental injustice and their political enablers are left unaccountable for the consequences of their actions? For whom does strapping on a flightless wing provide justification or forgiveness?
Resurrection
A toxic landscape rebounds with new growth encircling terminated industrial stacks.

Humans will soon extinguish their ability to survive. Their brief existence will bear the unfortunate causality of reduced biodiversity on the planet they systematically altered. Remaining species will adapt to their environment, survive, produce new offspring and evolve.
Locus
A figure embodies the San Francisco Bay at the core of its existence.
As individuals we are interconnected with and interdependent on the universe, the land we stand on and our gut biomes. Much of our caretaking begins close to home and often proves to be the place where we can make a measurable difference.